Overview#
Whenever there is a patch submitted by a developer on Gerrithub, there might be a chance that a bug is introduced and the build might fail. These kind of logical/code quality errors might go unnoticed by the reviewer. These bugs can only be identified after it has been pushed to official repo and Travis CI catches the bugs.
This bot keeps monitoring for patches and tries to run a Travis CI test to identify these kind of bugs. The bot then updates the patch with Verified +1/-1 based on whether the patch is stable/unstable.
Architecture#
The overall architecture of the bot can be summarized as below: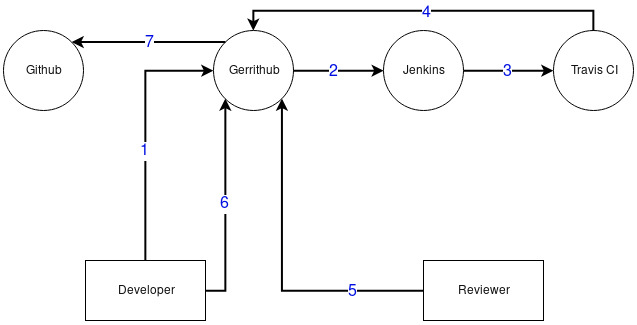 1 - Developer submits patch to GerritHub
2 - Jenkins listens for patches and triggers a job
3 - Jenkins job creates a throwaway branch and triggers Travis CI job
4 - Travis updates the label of the Gerrit patch. Adds comment with logs in case of Job failure
5 - Reviewer(s) review the code and mark success (Code-Review +1 or +2) or failure (return to step 1)
6 - Once patch receives Code-Review +2, the developer adds Workflow +1 and clicks on Submit
7 - Gerrithub pushes the patch to the official repo
Manual Steps to configure the bot#
Retrigger build job for a patch#
To retrigger build on a patch that has already been build, add keyword recheck as a comment and publish it. The bot will be triggered automatically.
Patch build details and Build log analysis#
The jenkins build log can be accessed from the URL posted in the comments of the patch or directly from the Jenkins server link (You must be connected to the RedHat VPN)
The travis build can be accessed from bot's Travis build https://travis-ci.org/pki-jenkins-bot/pki/builds
The temporary Github repo used to push patches for build is available at pki-jenkins-bot/pki
Note: This repo shouldn't be cloned/used anywhere.
In case the build fails, the corresponding log will be uploaded to transfer.sh whose link can be obtained from the Travis log.
Ansible Playbook to automate#
Ansible playbook that automates all the above steps has been developed and is available in Github repo. Even though all these manual step are automated, certain steps that involve security have to be done manually. The repository includes README instructions on how to execute the Ansible Playbook.
Demonstration Video#
A general idea of how the bot works and a quick demo of the Bot setup using Ansible playbook is available on youtube.